In April 1998, Mr and Mrs Evangelinos -a couple who have been collecting and studying the komboloi since 1958- establish the first -and still unique in the world- Komboloi Museum in Nafplion. The couple takes their first lessons on komboloi and learns its secrets in Alexandria, Egypt, where Mr Evangelinos' grandfather lived.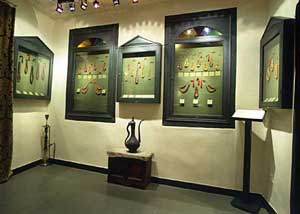 They start their journey on the "roads of komboloi" in 1963, a journey still continuing till today. They collect knowledge along with rare old strings of beads from all over the world- from Hinduists, Buddhists, Muslims, Catholics and Greeks- from the countries where the Greek nation prospered (Asia Minor, Syria, Egypt etc ). Thus, they acquire a unique collection of almost a thousand (1000) strings of beads dated from 1700 to 1950, made of pure amber, mastic-amber, faturan-amber, black(yusuri) and red coral, ivory, bone, horn, ebony, and so on.

The strings of beads which are exhibited in the Museum are placed in four different small halls following a historic route:
Hall A: Hinduistic-Buddhistic-Muslim strings of beads
Hall B: Catholic and Monastery Rosaries
Halls C and D: Greek strings of beads

The Museum has hosted more than 75,000 visitors since its opening.


All Greek newspapers -NEA, ELEFTHEROTIPIA, VEMA, KATHIMERINI and others- and magazines -STATUS, EPSILON, GREEK PANORAMA, EV and others- have shown great interest with extended articles. Furthermore, foreign newspapers -NEW YORK NATIONAL HERALD- or magazines -THE NEW YORK TIME MAGAZINE, THE NATIONAL GEOGRAPHIC- were greatly interested, too. The same interest was shown by Greek Radio and TV stations -NET, ANTENNA, ET3- and by foreign ones, such as THE BBC and LONELY PLANET.

The wish and aim of the Museum is to save and spread the knowledge of the traditional Greek komboloi.

The Museum is accommodated in a privately-owned two-storey building in the old city of Nafplion, at 25 Staikopoulou str. You can click here to see a map of our location. The exhibition halls are situated on the upper floor. The Museum workshop is on the ground floor. Its purpose is to conserve the old strings of beads and also produce exact replicas of them using hand-made beads manufactured in privately-owned workshops in the East. The conservation of old strings of beads which are family heirloom is free of charge. You can find all the strings of beads produced in the Museum workshop in the Selling Shop of the Museum, which is also situated on the ground floor.

The Museum itself operates under the supervision of the Ministry of Culture.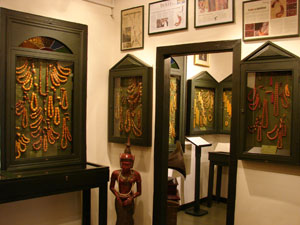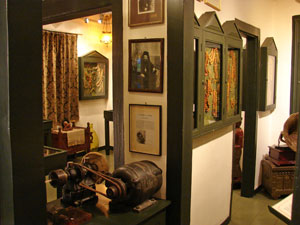 Museum opening hours: Monday - Sunday 09:30 - 20:30 (Closed on Tuesdays)
Admission fee: 2 euros

Take a virtual tour of Komboloi Museum, here